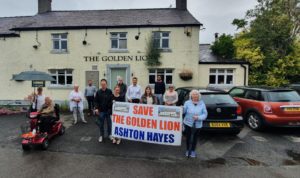 Members of the Golden Lion committee have had several successful meetings recently.
We were very pleased to welcome our local MP, Edward Timpson to the village and to show him the Golden Lion pub, which he recalls frequenting in the past. We talked through the project timeline to date and explained the current position of having triggered the moratorium under the recently listed Asset of Community Value (ACV). Edward Timpson was clearly impressed with the successful track record the community has in many of its previous projects and was clearly willing to lend his support and encouragement to the Golden Lion project. Edward has asked to be kept abreast of the project as it moves forwards and will support us through the provision of guidance and advice based on Central Government policy and community support including the "Community Ownership Fund" announced in the last budget.
We also met with the CEO of Cheshire West and Chester Council (CWaC) to explain the support required and the project plan for acquiring the Golden Lion. Andrew Lewis joined members of the Golden Lion committee at the pub as a scheduled stop in a "Ward Walk" with Cllr Hugo Deynem. Andrew was keen to understand the levels and areas of support that CWaC might be able to offer the project, in particular the possible role that the council might play in a Compulsory Purchase Order (CPO) approach to acquiring the Golden Lion for community benefit. Further meetings to specifically look at the direct support have now taken place with a dedicated point of contact within CWaC, these have been both encouraging and supportive and will continue as we build the support provided by the local authority into the long-term project plan.
Meanwhile we have been able to gain access to the Golden Lion via the selling agents to understand and take account of the ever-deteriorating condition, we have uploaded some photos to the website for information: https://goldenlionashtonhayes.co.uk/site-visit-2021/. We are now re visiting our renovation costs and business plan based on the additional works required and will be submitting a bid under the Right to Bid legislation.
The final piece of positive news is that the appeal against the listing of the Golden Lion as an Asset of Community Value, put in by the owner, has been considered and dismissed by CWaC, the notice advising of the same has also been posted at site. Click here to see the notice.